Gramedia Pustaka Utama,
Resensi: Maryam - Okky Madasari
"Apa yang diharapkan orang yang terbuang pada sebuah kepulangan?"
Sumber gambar: Goodreads
Judul: Maryam
Penulis: Okky Madasari
Penerbit: Gramedia Pustaka Utama
Ilustrasi sampul: Restu Retnaningtyas
Desain sampul: Marcel A.W.
Tahun terbit: April 2016, cetakan ketiga
Tebal buku: 280 halaman
ISBN: 978-979-22-8009-8
Pinjam dari Perpustakaan Pusat, Universitas Indonesia
Tentang mereka yang terusir karena iman di negeri yang penuh keindahan.
Lombok, Januari 2011
Kami hanya ingin pulang. Ke rumah kami sendiri. Rumah yang kami beli dengan uang kami sendiri. Rumah yang berhasil kami miliki lagi dengan susah payah, setelah dulu pernah diusir dari kampung-kampung kami. Rumah itu masih ada di sana. Sebagian ada yang hancur. Bekas terbakar di mana-mana. Genteng dan tembok yang tak lagi utuh. Tapi tidak apa-apa. Kami mau menerimanya apa adanya. Kami akan memperbaiki sendiri, dengan uang dan tenaga kami sendiri. Kami hanya ingin bisa pulang dan segera tinggal di rumah kami sendiri. Hidup aman. Tak ada lagi yang menyerang. Biarlah yang dulu kami lupakan. Tak ada dendam pada orang-orang yang pernah mengusir dan menyakiti kami. Yang penting bagi kami, hari-hari ke depan kami bisa hidup aman dan tenteram.
Kami mohon keadilan. Sampai kapan lagi kami harus menunggu?
Maryam Hayati
Info lebih lanjut dapat dibaca di:
Selamat datang di Indonesia!
Negara kepulauan yang digadang-gadang menghargai keberagaman suku, ras, dan agama. Negara indah yang dibanggakan karena semangat multikulturalismenya menurun dimana-mana. Negara yang menawarkan kedamaian dan ketenangan bagi siapa saja yang tinggal di sana. Negara yang... pada akhirnya malah mengingkari semua hal yang telah tersebutkan di atas. Negara yang nyatanya tidak benar-benar menghargai perbedaan dan cenderung mendahulukan kepentingan mayoritas. Negara yang pada akhirnya dipertanyakan, apaah benar ada yang namanya "bangsa Indonesia"?
Saya hanyalah seorang pembaca. Pembaca kisah Maryam yang ditulis oleh Okky Madasari. Diceritakan bahwa Maryam memiliki keluarga yang berbeda dari masyarakat kebanyakan. Ia dan keluarganya adalah seorang Ahmadi. Kelompok yang dianggap sesat dan dimusuhi oleh kelompok islam lainnya. Kelompok yang memengaruhi hidup Maryam dari kecil hingga dewasa. Kelompok minoritas yang pada akhirnya tergerus oleh mayoritas. Kelompok yang entah bagaimana kepastian hidupnya.
Dimulai dari kepulangan Maryam ke kampung halamannya, Maryam mencoba untuk menggali masa lalu dan mencari arti penting dari keluarga. Kemudian, meluas pula dengan menemukan cinta kembali. Maryam yang rapuh dan hancur, mencoba untuk kembali membangun hidupnya. Lewat canda, tawa, serta tangis yang dikeluarkan, Maryam akhirnya mengerti, keadilan di negeri ini bukanlah yang benar-benar adil. Hanya kiasan indah yang terus didengungkan oleh para penguasa.
Membaca Maryam, membuat saya diajak untuk melihat dan menelaah lebih dalam, penghargaan perbedaan di Indonesia tidak seindah yang kita bayangkan. Masih ada praktik-praktik main hakim sendiri yang dilakukan oleh mereka, para manusia yang termasuk ke dalam kaum mayoritas. Bukankah, yang sekarang pun demikian? Muncul lagi isu-isu mengenai mayoritas dan minoritas? Siapa yang punya kuasa dan siapa yang dikuasai? Bukankah negeri ini menjadi memilukan?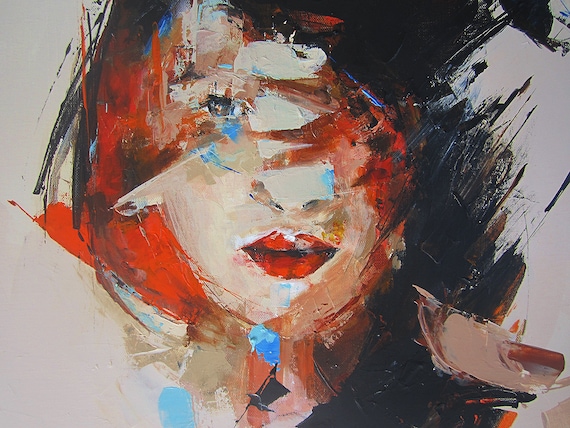 Sumber gambar: etsy.com
Saya selalu suka dengan cerita-cerita yang ditawarkan oleh Okky Madasari. Ia bisa menjelaskan secara gamblang mengenai realitas sosial yang ada di Indonesia. Ia berani untuk membahas hal-hal yang katanya masih "tabu" dan mengakibatkan ketubiran. Saya sangat menghargai upaya yang dilakukan oleh Ibu satu anak ini.
Selain itu, Okky berhasil menyelipkan makna di balik apa yang ingin sampaikan. Yang pasti, saya meyakini, Indonesia bukanlah negara yang benar-benar memiliki keindahan. Itu hanyalah asumsi yang terus diagungkan padahal belum tentu benar adanya. Padahal, itu masihlah harapan yang tiap hari makin terkikis dengan berbagai permasalahan kesukuan dan keagamaan yang ada.
Well, I know that this review is not like a good review. It's just my thinking and rant about what happened in Indonesia lately. I am sad when the minority have to accept something that really bad because of the majority said so. It is unfair, isn't it? I don't understand why the multiculturalism that is built from a long time ago, have ruined by the egoistic side of some people.
Empat bintang saya sematkan untuk kisah Maryam. Bukankah, terkadang kita memang bisa menjadi orang yang terbuang?
Sincerely,
Puji P. Rahayu