Confess by Colleen Hoover | Book Review
Sunday, July 10, 2016
How can a fifteen-year-old-girl defend her love when that love is dismissed by everyone?--Auburn.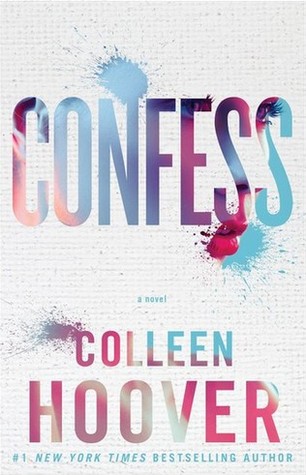 Image source: goodreads.com
Publisher : Atria Books
Number of Pages : 306
Year Published : March, 2015
ISBN : 978476791456
EPub, I got this novel from my friend.
Auburn Reed has her entire life mapped out. Her goals are in sight and there's no room for mistakes. But when she walks into a Dallas art studio in search of a job, she doesn't expect to find a deep attraction to the enigmatic artist who works there, Owen Gentry.
For once, Auburn takes a risk and puts her heart in control, only to discover Owen is keeping major secrets from coming out. The magnitude of his past threatens to destroy everything important to Auburn, and the only way to get her life back on track is to cut Owen out of it.
The last thing Owen wants is to lose Auburn, but he can't seem to convince her that truth is sometimes as subjective as art. All he would have to do to save their relationship is confess. But in this case, the confession could be much more destructive than the actual sin…
***
First thing first, I would like to say that this is the first time I read Colleen Hoover's story. I remembered one of my friend ever mentioned about Hoover story. She said that, Hoover has ability to make the who read her book could smile, laugh, crying, sobbing, etc. I really curious and I just found this novel on my EPub reader. So, without thinking twice, I started to read this novel.
The story begin with a-hurtful-prologue. No! I didn't say that the prologue is bad, but it really hurts when I had to know the fact that one of the character should die. Actually, I am not the type of easy-touched-reader. I am just feel pity to the character.
"I don't want him to be sad, but I need him to be sad with me right now."--Auburn.
Auburn Mason Reed,
since her boyfriend,
Adam,
die at fifteen years old, she never could meet someone who has ability to be loved like Adam. Never one. Two times Auburn try to date with another person, but the thinking of Adam still messing her mind. Whatever it takes, the first love would never leave her mind forever.
One day, she makes a decision to move to Texas. Something really important make her have to hire a lawyer. But, being an employee in saloon, not enough for Auburn to pay the lawyer. So, she really desperate to have a second job. Either this is God's work or just a coincidence, Auburn looked the announcement. Someone need help and Auburn have to help whoever-he/she-is so she could get more money. That help-sign make Auburn meet Owen Mason Gentry, artist who paint based on confession. Owen need someone who can serve the customer because he would like to open his gallery. The bad news is, Owen and his girlfriend break up two weeks ago. That's why Owen need someone else help. Long story short, Auburn's help that night make two of them feel different and they know that something happened on each other's heart and mind.
"You can love a lot of things about person but still not love the whole person."--Owen.
Just like what another said, the love journey would not meet and end if they haven't tell anything in the past. Past has built the present. So, no matter of what, the past would like to affect anything in present. Auburn hide her secret and Owen did too. They have to confess each other to make their relationship clear and without hesitation anymore.
Image source: here, edited by me
Uh, Oh, I really like the way Hoover build this story. The character is so strong and I could feel the emotion of every character. Especially, when Auburn mad to Trey--so, please! Trey is really annoying. How could he feel can replace Adam's position on Auburn's heart and mind? It's just ridiculous.
"Sometimes we don't get second chance, Owen. Sometimes things just end."--Auburn.
When I read this novel. I could feel the plot is neat and not rushing. I like it that much. One thing for sure that I like about this novel is the secret that hidden by Auburn an Owen. Every time I swap my finger in my smart phone, I questioned what will happen in the next? What is the secret? What is the confession about? Ah, Hoover make me could not put down this novel for a long time. I have urge to read all of this as fast as I can.
Hoover use two point of view in this novel and I like the way she write it. I could feel the emotion of Owen and Auburn and I didn't confused much when I read this novel. Those two pint of view make my emotion up and down. It makes me hurt when they have to separate. It makes me angry when they have to face Trey--uh, this guy made me want to punch him. His attitude is not acceptable anymore. It makes me smile when they can get some little escape. In the end, I really like it.
But then, I am little bit disappointed with the ending. I think, Hoover could dig more from the story. The story should not have end like that. It should be something else :( I just can hope that Hoover make another story or spin-off to finish this whole story.
Despite the ending that really not my favorite one, I still like the story--and the painting one. May be, I could start to find another Hoover's story and start to read it :D
4 stars for Adam--the one that really loving and sweet.