Someone to Watch Over Me (Sang Penjaga Hati) by Lisa Kleypas
Thursday, July 10, 2014
Someone to watch over me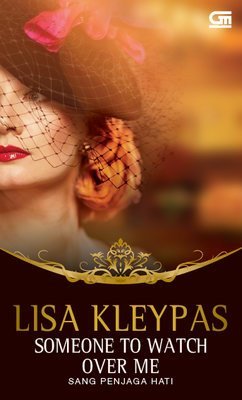 4 of 5 stars
Penerbit: Gramedia Pustaka Utama
Grant Morgan adalah bujangan paling didambakan di London, juga salah satu anggota Bow Street Runner yang diperhitungkan. Ketika suatu malam ia dipanggil untuk menyelidiki korban tenggelam, Grant terkejut saat mengenali korban itu sebagai Vivien Rose Duvall, wanita bereputasi buruk. Ia semakin terkejut ketika menyadari wanita itu masih hidup. Karena tak ada seorang pun yang bisa menjaga wanita itu, Grant membawa pulang Vivien untuk merawatnya, namun malah menyadari wanita itu menderita amnesia.
Vivien menyadari tanda di lehernya membuktikan ada orang yang sengaja menenggelamkannya di Sungai Thames. Karena itu, ia tak punya pilihan selain memercayai pengakuan pria penyelamatnya bahwa mereka sepasang kekasih, dan menyerahkan hidupnya pada pria itu. Selagi Grant mencari penyerang Vivien, mereka berdua mendapati diri jatuh cinta, sambil berjuang tetap berada selangkah di depan orang yang menginginkan Vivien mati.
Maybe this was my first time to read Lisa Kleypas' story.
Novel ini menceritakan seorang gadis yang ditemukan hampir mati, dia bernama Viviane. Viviane diselamatkan oleh Grant Morgan—Seorang Bow Street Runner. Diduga, Viviane diburu oleh pelindungnya yang sekarang. Sayangnya, Viviane hilang ingatan.
Nggak tahu kenapa, setelah baca di part awal I realize that woman is not the real Viviane. Mungkin karena ada clue-clue yang ditinggalkan penulis sehingga aku bisa menyadarinya. Dan aku sangat berharap kalau aku nggak salah. I am happy because I am right.
Jujur saja, ini novel roman-detektif pertama yang aku baca. Biasanya aku membaca novel detektif yang pure. Kayak Sherlock Holmes. Mungkin karena mood bacaku yang sekarang condong ke roman, akhirnya aku mencomot buku ini.
First thing first, desain sampulnya bener-bener berkelas. Pandangan mata si cewek itu keren dan she looks pretty meskipun wajahnya cuma terlihat setengah. Mengundang lah untuk ditarik ke kasir. Haha :D
Aku tak begitu paham dengan pekerjaannya Grant, yang pasti dia bertuhas untuk membasmi kejahatan di Kota London. Gemes sih sama sikapnya Grant yang sinis dan bahkan berniat menyakiti Viviane—sebelum dia tahu kalau wanita yang diselamatkannya adalah saudara kembar Viviane.
Sebenernya, aku merasa kalau mereka jatuh cintanya agak buru-buru. Tapi manis juga kok. They are perfect dan melengkapi.
Hal yang nggak aku sangka, aku nggak bisa menebak siapa pelakunya. Okelah, si Keyes pernah terlihat jelek, tapi aku nggak nyadar kalau beneran dia yang jadi pelakunya. Twistnya keren.