Ketika nasionalisme menjadi suatu diskursus yang akan selalu dipertanyakan.
Bumi Manusia. Image: IMDb
Judul: Bumi Manusia
Sutradara: Hanung Bramantyo
Penulis: Salman Aristo
Pemain: Iqbaal Ramadhan, Mawar Eva De Jongh, Sha Ine Febriyanti
Tanggal rilis: 15 Agustus 2019
Diadaptasi dari novel berjudul sama, Bumi Manusia, karya Pramoedya Ananta Toer
Produksi Falcon Pictures
Ditonton di Kemang Village XXI
This is a story of Minke and Annelies who weave love in the early 20th century colonial turbulance. Minke is a native youth, purebred Javanese. While Annelies is a mixed-Dutch girl, the daughter of a nyai (mistress), called Ontosoroh. Minke's father, who has just been appointed as regent, is always against Minke's closeness to the Nyai's family, because a Nyai's position at the time is seen to be as low as pet animals. But this one nyai, Nyai Ontosoroh, Annelies' mother, is different. Minke admires all of her thoughts and struggles against the arrogance of colonial hegemony. To Minke, Nyai Ontosoroh is the reflection of modernization, which at the time is just beginning to rise. When the arrogance of colonial law tries to wrench Annelies from Minke's side, Nyai Ontosoroh is also the one who urges Minke to keep going and shout the word, "Fight!"
***
Hari itu, salah seorang kenalan menawarkan satu tiket nonton gratis film Bumi Manusia di Kemang Village. Berhubung kantor tempat saya magang tak jauh dari lokasi tersebut, saya memutuskan untuk menonton salah satu film yang digadang-gadang menjadi karya terbesar tahun ini.
Bagi para pecinta sastra, rasanya tak akan lengkap bila tak membahas sosok Pramoedya Ananta Toer. Pram adalah seorang sastrawan yang dicinta sekaligus dibenci. Ia memiliki pemikiran yang tak biasa dan tentunya sanggup menuliskan imaji-imajinya secara apik dalam tetralogi Pulau Buru.
Saya harus mengakui, saya bukanlah orang yang pintar berkontemplasi. Apabila dibandingkan dengan teman-teman saya, kemampuan saya mengenai hal itu akan berbeda jauh. Ketika saya membaca Bumi Manusia, saya harus terseok-seok memahami apa yang ingin disampaikan Pram. Begini, saya adalah orang yang masih mempertanyakan apa itu bangsa. Iya, what is nation? Pada dasarnya, bangsa Indonesia itu yang mana? Terdiri dari siapa? Atau bahkan, apa itu bangsa Indonesia? Saya bukannya tidak mempercayai nasionalisme--saya sedikit jengah dengan narasi NKRI harga mati atau lainnya, tapi saya percaya bahwa negara ini masih dalam tahap nation-building. Memadukan pemahaman akan bangsa Indonesia bukanlah perkara mudah. Hal ini dapat dilihat dari kerusuhan yang tercipta baru-baru ini. Bukankah itu juga berujung pada pertanyaan akan diskursus nasionalisme?
Sudah-sudah. Kalau diteruskan, akan menambah panjang ketidakmengertian saya akan diskursus ini sendiri.
Darsam dan Minke. Image: BookMyShow
Kembali ke film Bumi Manusia. Tentu, bagi para penonton yang sudah membaca karya Pram itu, rasanya tidak mungkin untuk mengadaptasi karya semegah Bumi Manusia ke dalam film. Saya pun cenderung skeptis ketika Iqbaal Ramadhan didaulat menjadi Minke. Begini, bukannya, lagi-lagi, saya merasa bahwa Iqbaal tidak memiliki kapasitas dalam berakting, hanya saja saya merasa akan sulit baginya menghidupkan sosok Minke. Sosok Nyai Ontosoroh pun juga sedikit-banyak saya takutkan perannya--karena saya masih terbayang sosok Happy Salma dalam teater Bunga Penutup Abad yang memainkan sosok perempuan kuat itu.
Akan tetapi, sebagaimana yang seharusnya, saya pun mencoba menonton Bumi Manusia tanpa adanya ekspektasi yang terlalu tinggi. Takut kecewa, itu saja.
Saya tidak akan terlalu banyak membahas alurnya karena secara apik, nyatanya Salman Aristo, sang penulis naskah, berhasil mencoba merangkum kisah Bumi Manusia menjadi film berdurasi tiga jam. Well, saya akui kok kalau saya merasakan kebosanan di tengah film--dibuktikan dengan saya rela meninggalkan tempat duduk barang sepuluh menit untuk ke toilet. Akan tetapi, apabila memang penonton ingin melihat betapa manisnya hubungan Minke dengan Annelies (Mawar Eva De Jongh), Hanung Bramantyo selaku sutradara berhasil menyajikannya dengan apik. Bahkan menjadi salah satu unsur kunci dalam film ini--atau begitulah yang disampaikan oleh salah satu resensi yang sempat saya baca sebelumnya.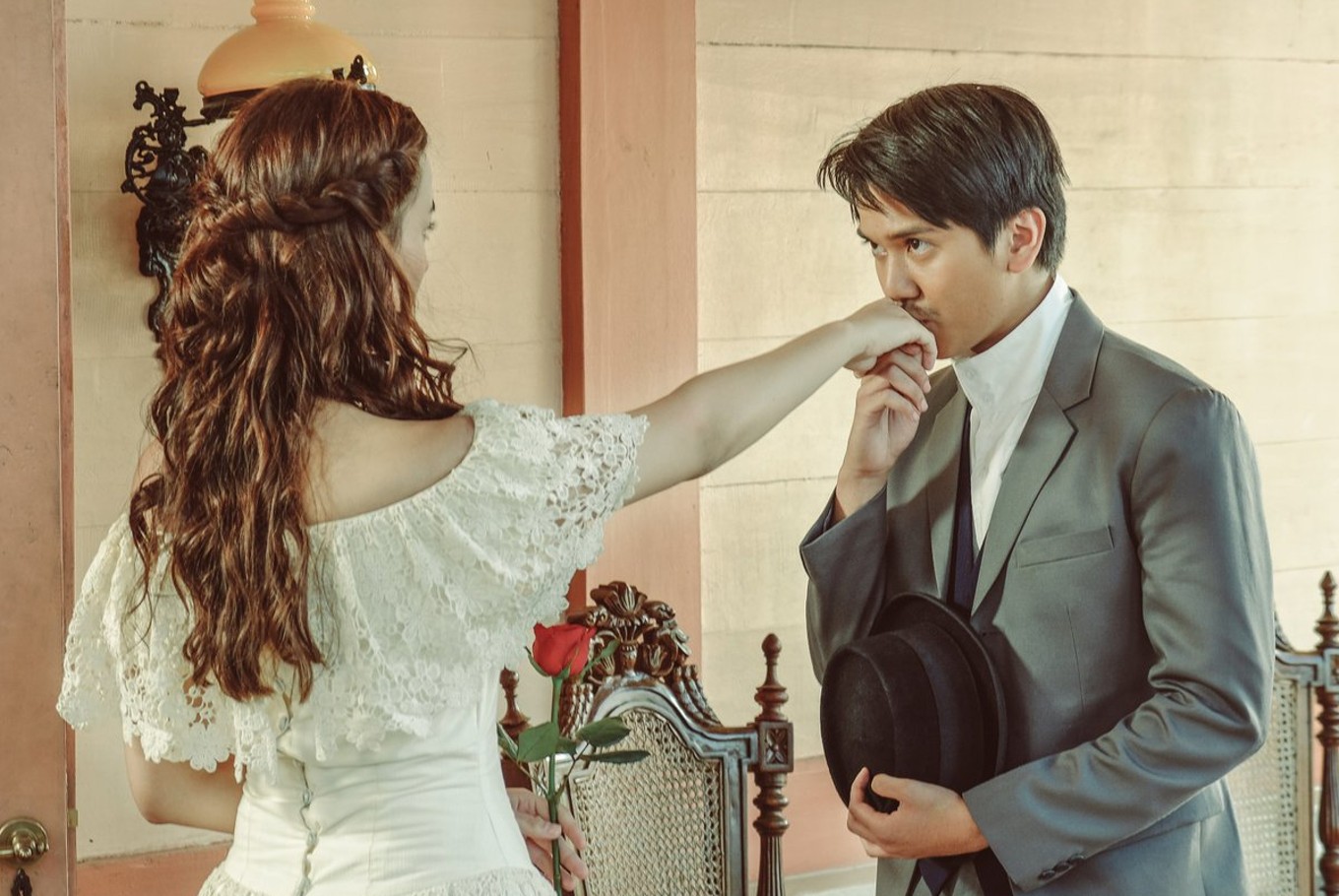 Annelies dan Minke. Image: The Jakarta Post
Lalu, saya sangat suka dengan Sha Ine Febriyanti yang berhasil menghidupkan Nyai Ontosoroh dengan begitu hebatnya. Mungkin, bagi para pembaca Bumi Manusia, sosok Sha Ine lah yang pantas mendapatkan standing ovation. Bukan Iqbal maupun Mawar. Iya, bagi saya, bukannya kedua pemeran utama itu tak melakukan akting terbaiknya, hanya saja terasa ada yang kurang dari karakter mereka dalam film ini.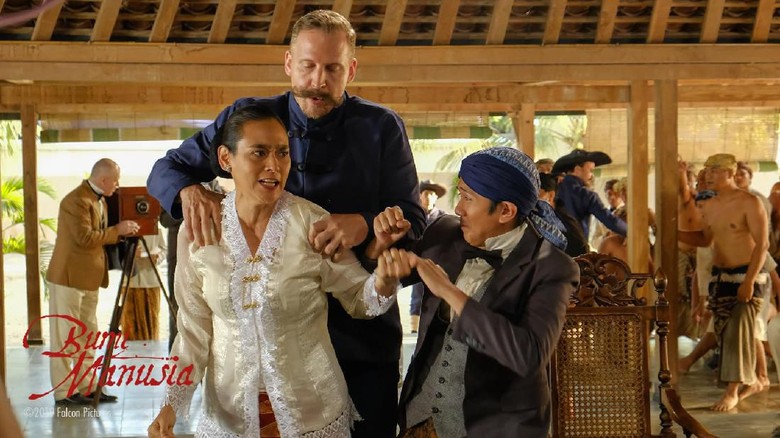 Nyai Ontosoroh. Image: Falcon Pictures.
Kalau ada yang ingin saya keluhkan, maka saya akan menyebutkan CGI dari film ini. Iya, saya tahu pasti tidak mudah memunculkan kembali nuansa zaman dahulu kala di zaman serba modern ini. Akan tetapi, kalau ditonton lebih jauh, CGI tersebut malah cenderung mengganggu. Belum lagi, lokasi danau tempat Minke dan Annelies sering memadu kasih, danaunya terlihat... sungguh tak nyata. Saya jadi tidak bisa mendapatkan feel ketika menontonnya.
Kemudian, sosok Jean Marais yang seharusnya menjadi salah satu tokoh penting, malah tak nampak signifikansinya. Ia pun muncul hanya untuk menekankan kutipan "adil sejak dalam pikiran". Itu saja. Sungguh disayangkan kalau menurut saya.
Lalu, apa kesimpulan saya untuk film epic ini? Saya akui bahwa saya memang sudah seharusnya mengapresiasi upaya para sineas film ketika menghidupkan sosok-sosok dalam kisah gubahan Pram tersebut. Terlepas dari kekurangan yang menyertainya.
Saran saya, tontonlah film ini sebagai bentuk hiburan. Jangan menaruh ekspektasi yang terlalu tinggi apabila memang kamu telah membaca novelnya. Bagi yang belum membaca, coba nikmati film panjang berdurasi tiga jam ini dengan bahagia.
Sincerely,
Puji P. Rahayu